Lions Club of Dhaka organise two-day Health Camp at DRU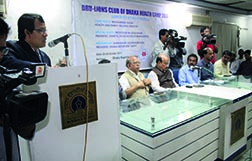 Lions Club of Dhaka in association with Dhaka Reporters Unity had organised a two day health camp recently to mark its 60th anniversary.
The health camp supported by Novo Nordisk has created the opportunity for testing diabetes on first day and eye test on second day for the members of DRU. The camp inaugurated by Mohammad Nasim, Health and Family Welfare Minister at DRU.
Mohammad Saiful, president of Lions Club of Dhaka, said to mark the club's 60th anniversary and its focus on diabetes, the health camp has been organised. "We serve is our philosophy. We want to serve more. We want to stand for the society," said Saiful. A total of nine eye patients had been selected for the operations at subsidised cost at Lions Hospital in Dhaka, while 260 people tested diabetes.
AK Azad Khan, President of Diabetic Association of Bangladesh, Anand Shetty, Managing Director of Novo Nordisk, Faruque Pathan, head of the Department of Endocrinology at BIRDEM General Hospital, M A Samad, CEO and senior consultant at National Healthcare Network were also present and spoke on diabetes.
Beximco Pharma commences export to Canada
Beximco Pharmaceuticals Limited the fast-growing manufacturer of generic pharmaceutical products and active pharmaceutical ingredients, recently announced that it has commenced the export of Olopatadine, an ophthalmic product for treating the symptoms of eye allergy, to Canada. This follows the approval of Olopatadine (0.1% solution) by Health Canada in October 2016 and is the first time a pharmaceutical product from Bangladesh has been launched in this North American country.
According to IMS data, the current market size for Olopatadine eye drops (including all strengths) in Canada is $14 million. The first consignment was delivered recently and the product will be distributed through the Company's existing partner in Canada. Beximco Pharma's second prescription product for the Canadian market is currently under evaluation by Health Canada, with approval expected by the first quarter of 2018. There are also a number of products in the R&D pipeline which the Company expects to file in Canada.
Beximco Pharma Managing Director, Nazmul Hassan MP, commented that the "Entry into the Canadian pharmaceutical market, following the successful launch of our first product in the US last year, is a significant step forward in strengthening our presence in North America. This is the first time a pharmaceutical product manufactured in Bangladesh, notably a sterile ophthalmic product, has been exported to Canada. The launch of our second product in North America is another validation of our strength in offering specialised generic products in a global setting. We continue to focus on building a strong pipeline for prescription markets."
Beximco Pharma's ophthalmic unit is the only such facility in Bangladesh to be approved by the regulatory authorities of Europe, Australia and Canada. The Company has developed a global footprint, with sales to more than 50 countries.
Beximco Pharma to acquire majority stake in Nuvista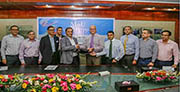 Bangladesh's leading medicine producer Beximco Pharmaceuticals Limited recently announced that it has entered into a non-binding Memorandum of Understanding (MoU) under which Beximco may acquire a majority shareholding (85.22%) in Nuvista Pharma, a leading pharmaceutical company in Bangladesh specialising in hormones and steroid drugs. The proposed acquisition remains subject due to diligence and negotiation and completion of a definitive sale and purchase agreement. It is expected that the proposed acquisition will be completed by the end of December 2017, company Press release said.
Nazmul Hassan MP, Managing Director of Beximco Pharma, and Akhter Matin Chaudhury, Chairman of Nuvista Pharma, signed the MoU recently. High officials from both the companies were present during the signing ceremony held at Beximco Pharma head office in Dhaka. Nuvista Pharma, formerly Organon (Bangladesh) Ltd, was a subsidiary of Netherlands-based Organon International. It was sold out to the current Bangladeshi Management in 2006. The company has been operating in Bangladesh since 1964, with a local manufacturing facility at Tongi, Dhaka. They also have a long-term manufacturing and marketing collaboration with Merck Sharp & Dohme (MSD). According to the QuintilesIMS Q2 2017 data of the retail pharma market in Bangladesh, Nuvista Pharma currently ranks as the 21st largest supplier to the market by volume. The directors believe that the proposed acquisition will, if completed, accelerate revenue growth and improve the earning potential for Beximco Pharma, the statement added. Beximco Pharma Managing Director, Nazmul Hassan MP, commented: "We believe that this proposed acquisition would be the first in our company's history and will serve as a strong foundation for sustainable growth in the future. In our view, Nuvista Pharma is a good strategic fit for Beximco Pharma as their strong position in hormones and steroids, with a unique portfolio of 50 generics, complements our existing product range." The company shall make further announcements on progress as appropriate, the MD also said.
Novo Nordisk support DRU to Award Best Health Report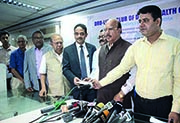 Novo Nordisk has supported Dhaka Reporters' Unity to award the best report in the health sector. The award will be given in four categories: print, electronic, radio and online media.
Mohammad Nasim, Health and Family Welfare Minister, and Anand Shetty, Managing Director of Novo Nordisk has delivered the cheque the Shakhawat Hossain Badsha, President of DRU at the inauguration ceremony of DRU-Lions Club of Dhaka Health Camp 2017 recently. The minister praised Novo Nordisk for supporting DRU.
Anand Shetty, Managing Director of Novo Nordisk, said: "We are working in Bangladesh for about 60 years and 90 years globally. Our commitments and contribution for the patients living with diabetes will be continued in the future also. Our key contribution is to discover and develop better biological medicines, manufacture them to meet increasing global demand and make them accessible wherever they are needed."
Novo Nordisk is the market leader within insulin and GLP-1 portfolio, and is the world's largest producer of insulin, said Shetty, adding that, "In Bangladesh we have introduced entire range of products starting from human insulin, modern insulin, next generation insulin and GLP-1, which meet the needs of all type of patients' requirement."
AK Azad Khan, President of Diabetic Association of Bangladesh, Faruque Pathan, Head of the Department of Endocrinology at BIRDEM General Hospital, M A Samad, CEO and senior consultant at National Healthcare Network were also present and spoke on diabetes.
Praj Industries & Neela Systems along with Pasteur Pharmatech Solutions organize Technical Seminar

Praj Industries Ltd. and Neela Systems Limited (A Praj Group Company) based in Pune (India) along with their local partner Pasteur Pharmatech Solutions (Bangladesh) recently organized a Technical Seminar on "Water and Waste-water Solutions for the Pharmaceutical Industry" in Dhaka.
Praj Industries and Neela Systems are specialized in Turnkey Solutions for Water & Waste-water Treatment with experience of 40 countries in 5 continents. The Seminar was programmed to share the knowledge gained over 3 decades of industry experience and focused on the following topics: Challenges faced in a Pharmaceutical Facility with regard to compliance with Regulatory Authorities, Basics of Water Treatment & Waste-water Management including Effluent Treatment Plant (ETP) and Zero Liquid Discharge.
Major General Md. Jahangir Hossain Mollik, Director General of Drug Administration inaugurated the Seminar, followed by informative and technical presentations by A. A. Salim Barami, Director (C.C) of Drug Administration and Professionals with expert knowledge & understanding on the subject from Pharmaceutical Industry.
The event was well attended by representatives of many leading pharmaceutical companies with keen interest to share and understand the fundamentals and advanced aspects of Water Treatment, Waste-water Treatment and the Challenges thereby, the industry faces in course of becoming global manufacturing hub for high quality pharmaceutical products.
Novo Nordisk ranks 55 out of Top 100 Brands

APCO surveyed 70,000 consumers in 15 major international markets about 600 of the world's biggest brands to arrive at its top 100 rankings. This survey measured eight emotional feelings of people towards brands by understanding, approachability, relevance, admiration, curiosity, identification, empowerment, and pride. These eight emotional feelings were cited as "the key drivers" of Novo Nordisk's impressive global ranking and posseses 67.9 emotional linking index out of this.
SQUARE bags award for "Excellence in Export"

TAPAN CHOWDHURY, Managing Director of Square Pharmaceuticals Ltd., recently received the National Export Trophy (Gold) from Sheikh Hasina, Hon'ble Prime Minister of People's Republic of Bangladesh. Square Pharmaceuticals Ltd. has been awarded this Gold Trophy in "Pharmaceuticals Sector" for 2010-2011 for its excellent performance in volume of exports, value addition, entry to new export destinations, new design & packaging and consistent compliance with quality parameters.
NIPRO JMI Pharma Annual Sales Conference held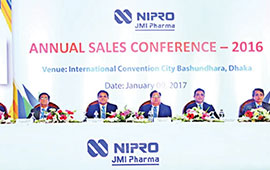 NIPRO JMI Pharma, a Japan Bangladesh joint venture company, arranged Annual Sales Conference 2016 at the International Convention Center, Bashundhara, Dhaka recently. Md. AbdurRazzaq, the Managing Director, inaugurated the program and expressed his gratitude to all employees for the incredible growth of the company. He also expressed his profound gratefulness to the physicians and other stakeholders for their sincere support. Considering the huge demand, he addressed to launch high-tech products like Biotech, Sterile, Steroids and Hormones in the near future to uphold the company position in Pharma Industry.

Md. Mizanur Rahman, Chief Executive Officer (CEO) of the company highlighted the achievements of 2016 and placed the objectives and action plan for 2017. He also thanked all participants for making the conference successful.

Chairman of the organization, Jabed Iqbal Pathan revealed that NIPRO JMI Pharma has started exporting medicine in different countries of the world and it is growing day by day. Other Directors, foreign delegates and Managers along with around 1000 sales personnel coming from different regions of the country were also present at the conference.
OpsoninPharma holds Annual Sales Confce 2017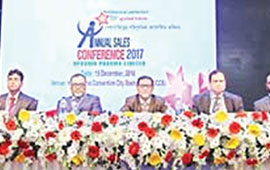 The "Annual Sales Conference 2017" of OpsoninPharma Limited was held at the International Convention City Bashundhara ICCB in the city recently. A large number of field level officials of the company attended the conference, says a press release.

OpsoninPharma Ltd. has achieved significant growth in 2016 among top pharmaceutical companies of Bangladesh. Currently the company is holding 4th position in terms of sales volume in the pharma market of Bangladesh, the press release claimed.

Chairman Captain AbdusSabur Khan (Retd.), Managing Director AbdurRouf Khan, Deputy Managing Director AbdurRakib Khan, Director Marketing and Sales Syed Golam Rahman, General Manager Sales Abdul MomenTalukder, Manager Product Management Department, Sudip Kumar Saha and other high officials were also present in the conference.

Director Marketing and Sales Syed Golam Rahman discussed different aspects of sales and prescription of the year 2016 and focused on the marketing and sales planning for the year 2017.
Aristopharma celebrates its 30 Years Journey and Annual Sales Conference-2016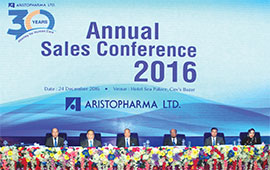 Aristopharma, one of the leading pharmaceutical companies of Bangladesh, celebrated its 30 Years Journey and Annual Sales Conference recently at Cox's Bazar. The company started its operation in 1986 and in 2016 it has completed its 30th year of glorious journey. Currently Aristopharma ranks no. 7 among all local and multinational companies in Bangladesh Pharma market & no.1 position in the Ophthalmic market of Bangladesh. Moreover, it also exports medicines to around 33 countries of the world.

The Chairman & Managing Director of Aristopharma, M. A. Hassan, thanked all of his employees for their devotion towards the company & also informed about its new factory located at Gachha, Gazipur which will open export opportunities to regulated markets like Europe & America. Other directors and senior officials also shared strategies for future development of the company. Around two thousand and five hundred employees working in different parts of the country attended the conference. At the end awards were given to the achievers in different categories.
InceptaPharma holds Annual Sales Conference 2017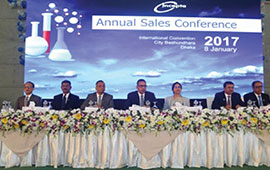 Incepta Pharmaceuticals Limited organised its Annual Sales Conference-2017 at the International Convention City, Bashundhara in the city recently.

HasneenMuktadir, the Vice-chairman of Incepta Pharmaceuticals Limited inaugurated the conference, while Chairman and Managing Director Abdul Muktadir discussed about the various success stories of Incepta in 2016 in the local and international markets. He also focused on the objectives for 2017.He mentioned that Incepta continues its journey towards its inherent vision to become a global company with strong footstep all over the world by maintaining a constant commitment to research, developing innovative products and quality management.

As recognition of export business, Incepta has earned the Silver Export Trophy for the fiscal 2013-14.

HasneenMuktadir said that Incepta is continuously trying to launch electrifying & market winning products with an objective to provide these products at an affordable price along with maintaining its high quality.Best performers and achievers were awarded for their excellent performance in 2016. The daylong program ended with a colorful cultural program.
Apollo Hospitals Dhaka saves the life of 1.3 pound New born for the first time in Bangladesh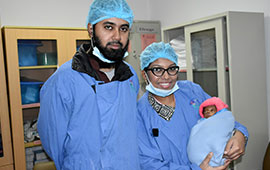 Apollo Hospitals Dhaka has successfully managed and treated a newborn with a weight of 1.3 pounds. It is the first case in Bangladesh, in which a newborn of 1.3 pound has survived in Bangladesh. The mother of the baby had chronic hypertension which led to a superimposed pre-eclampsia in spite of taking anti-hypertensive medication. Due to less fetal movement and growth and the condition of the mother and decrease in blood circulation of the baby, a caesarian surgery was performed on the mother by Dr. GulshanAra, Senior Consultant and Coordinator, Gynaecology & Obstetrics, Apollo Hospitals Dhaka. The baby was born during 28 weeks of the pregnancy period of the mother. The early delivery of the child deprived her of complete immunity making her infection prone.

Among many complications, the newborn suffered from congenital heart defect, retinal problems, urinary tract infection, anemia and milk protein allergy- disabling the child from breastfeeding. After treatment of the newborn for 95 days by Dr. Abu Sayeed Mohammad Iqbal - Coordinator & Senior Consultant – Paediatrics, the child is now of 3 months, currently leads a healthy life similar to any other infant of similar age. This is the first case in Bangladesh in which a newborn of this weight has survived. To discuss this case in details a press conference was organized in the auditorium of Apollo Hospitals Dhaka recently in which Dr. RatnadeepChaskar, Chief Operating Officer, EnayetUllah Khan, Director, Business Development, Dr. Arif Mahmud, Senior General Manager, Medical Services and consultants of the hospital were present.
Start Early, Change Diabetes: Mashrafe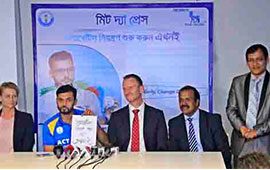 Bangladesh one-day and T-20 cricket captain Mashrafe Bin Mortaza urged people living with diabetes to start a good innings as early as possible for changing diabetes.

"If anyone wants to live well with diabetes, the best option is to be diagnosed and treat early to avoid long term complications," Mashrafe said at press meet on 'Star Early, Change Diabetes'.The press meet was organized by Danish pharma giant Novo Nordisk, who is working for changing diabetes over 50 years in Bangladesh. The captain recently joined with Novo Nordisk and Diabetic Association of Bangladesh (DAB).

The captain will work to create awareness on the primary prevention, early diagnosis, better treatment and good control of diabetes. He will also focus on the benefit of healthy lifestyle and diet to prevent diabetes.

Mashrafe said: people living with diabetes should maintain 678 numbers to live well. He explained six as blood glucose level before breakfast, seven as HBA1C (three-month average blood glucose level) and eight as blood glucose level) and eight as blood glucose level two hours after breakfast.

Peter Ulvskjold, Corporate Vice President, Business Area South East Asia, said, unfortunately, diagnosis in itself is not enough to reverse the global diabetes burden.Out of the people who are diagnosed with diabetes, it is estimated that around 50 percent receive care –however, less than half of those who receive care achieve their treatment targets, Peter said.

Therefore, our focus area is to ensure that people with diabetes receive the right care and support to live a good life with diabetes, Peter added. A Rajan Kumar, Managing Director of Novo Nordisk, said: "Our ultimate aim is to ensure that more people can live a life with diabetes free of complications."

Dr. Mohammad Saiful, Head of Marketing of Novo Nordisk said: "Our changing diabetes activities will help patients to achieve their control and also help the country to achieve sustainable development goals."
Beximco wins 3rd nod for generic drug from USFDA
BeximcoPharmaceuticals is now set to launch Metformin Hydrochloride extended-release tablets in two strengths, 500mg and 750mg, in the US market in the middle of next year, Beximco said in a statement.This is the third product from Beximco approved by the FDA. Metformin Hydrochloride tablets are generic equivalent of Bristol-Myers Squibb's Glucophage XR tablets in 500mg and 750mg strengths.Metformin is indicated as an adjunct to diet and exercise to improve glycaemic control in adults with type 2 diabetes mellitus. Annual sales for Glucophage XR in the US were $918 million for the 12 months to October 2016, Beximco said, citing data from the Intercontinental Marketing Services.

"We are glad to receive our third product approval for the US market and this clearly demonstrates our competitive in-house capabilities, especially our strengths in extended-release formulation," said Nazmul Hassan, managing director of BeximcoPharma.BeximcoPharma, a unit of Beximco Group, first received the permission from the FDA to export medicines to the American market in November last year.
Sandoz and Beximco Pharmaceuticals Join the Medicines Patent Pool's Growing Network of Generic Manufacturing Partners
The Medicines Patent Pool (MPP) announced the expansion of its network of generic manufacturers to include Sandoz and Beximco Pharmaceuticals Ltd. to help produce much needed hepatitis C treatments for developing countries. Both companies have signed sub-licensing agreements to manufacture Bristol-Myers Squibb′s (BMS) daclatasvir (originator brand Daclinza), a new direct-acting antiviral for hepatitis C that, when used in combination with other treatments, is proven to cure multiple genotypes of the HCV virus. The MPP signed a license and technology transfer agreement with BMS for the treatment in November, 2015.

BeximcoPharma becomes the first Bangladeshi company to achieve this unique feat following a thorough review done by the MPP. On joining the MPP's prestigious network of generic suppliers, Managing Director of BeximcoPharma,Nazmul Hassan MP said: "We are glad to be a part of this global network as the first Bangladeshi company and we believe our competitive cost of production will help improve access to this new and highly effective hepatitis C treatment for patients in many low- and middle-income countries".MPP is working to increase access to HIV, viral hepatitis C and tuberculosis treatments in low- and middle-income countries. Through its innovative business model, the MPP partners with governments, industry, civil society, international organisations, patient groups and other stakeholders to forecast, prioritise and license needed medicines. MPP is now working with fifteen generic companies on more than 100 projects to manufacture, register and deliver 13 World Health Organization-recommended HIV and hepatitis C treatments to up to 131 countries in the developing world. As of now, daclatasvir has been sub-licensed to Sandoz, Aurobindo, Cipla, Emcure, Hetero, Laurus, NatcoPharma Ltd and ZydusCadila.